Nord Stage 4 88 at Arties Music Aspley Brisbane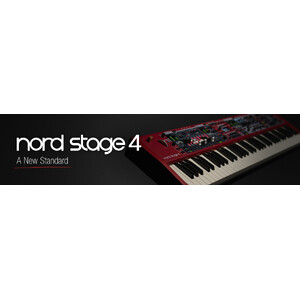 Unleash Your Musical Potential with the Nord Stage 4 88 at Arties Music Aspley Brisbane
Introduction
In the world of professional keyboard instruments, the Nord Stage series has always been synonymous with excellence and innovation. Each new iteration of the Nord Stage line has raised the bar for what's possible in a digital stage piano, and the Nord Stage 4 88 is no exception. This remarkable instrument is a true powerhouse that opens up a world of creative possibilities for musicians of all genres. In this review, we'll explore the incredible features and capabilities that make the Nord Stage 4 88 a game-changer in the music industry.
An Overview of the Nord Stage 4 88
The Nord Stage 4 88 is the latest addition to the Nord Stage family, and it continues the tradition of excellence that has made Nord a favorite among professional musicians. This instrument combines the best elements of a digital stage piano, a synthesizer, and a drawbar organ into one sleek and stylish package. With 88 fully weighted hammer-action keys, it provides an authentic and expressive playing experience that will feel familiar to pianists while offering versatility for all types of keyboardists.
Key Features and Benefits
Cutting-Edge Sound Engine:
At the heart of the Nord Stage 4 88 is an advanced sound engine that boasts a wealth of high-quality sounds. It includes an extensive library of pianos, electric pianos, organs, synthesizers, and more. The attention to detail in sound reproduction is truly impressive, making this keyboard a top choice for stage and studio work. The carefully sampled acoustic pianos, in particular, are known for their realism and depth, delivering a playing experience that's second to none.
Performance-Focused Interface:
Navigating the Nord Stage 4 88 is a breeze, thanks to its user-friendly interface. The central OLED display provides clear and concise information, allowing you to customize your sound on the fly. The intuitive layout of controls and the addition of the seamless Transposing feature make this instrument ideal for live performances, enabling you to adapt to any musical situation effortlessly.
Seamless Integration:
The Nord Stage 4 88 is designed with modern musicians in mind. It integrates seamlessly with other gear and software, allowing you to use it as a master controller in your studio or on stage. You can connect it to your computer via USB for MIDI control, and its compatibility with the Nord Sound Manager software makes managing and updating your sounds a breeze.
Performer's Dream:
The Nord Stage 4 88 is a true performer's dream. Its lightweight yet sturdy build and portable design make it easy to transport, while the top-of-the-line effects section ensures that your live performances sound nothing short of spectacular. The inclusion of advanced features like Seamless Transitions and Set List mode enhances the overall user experience.
Endless Creativity:
One of the standout features of the Nord Stage 4 88 is its immense creative potential. With powerful synthesis and split/layer capabilities, you can craft unique sounds and textures that set your music apart. Whether you're a seasoned pro or a budding artist, the Nord Stage 4 88 will encourage experimentation and innovation.
Conclusion
In a world where musicians demand flexibility, authenticity, and top-tier performance, the Nord Stage 4 88 stands out as a remarkable choice. With its stunning sound quality, versatile features, and user-friendly interface, it opens up a world of musical possibilities for keyboardists and performers. Whether you're a pianist, a synth enthusiast, or an organ aficionado, this instrument is designed to cater to your diverse needs.
The Nord Stage 4 88 is a testament to the dedication and innovation of Nord as they continue to redefine the standard for digital stage pianos. With this instrument, you can expect nothing but the best in sound, playability, and versatility. So, if you're ready to take your music to new heights, the Nord Stage 4 88 is undoubtedly an investment worth making.
---
Leave a comment